Description
Buffered Vitamin C Antioxidant & Collagen SupportCrystalline PowderDietary SupplementMade with Non-GMO IngredientsGluten FreeNot Tested on AnimalsNaturally Fresh  Nitro®Pak Bacteria Free EnvironmentpH 7.1‡Highly SolubleNutriBiotic® Sodium Ascorbate is a non-bitter, non-acidic, fully reacted, buffered crystalline powder combining 100% pharmaceutical grade vitamin C (L-ascorbic acid) and sodium in a highly soluble form.Vitamin C and sodium are essential nutrients that help support the body. Vitamin C provides antioxidant protection to the immune system, as well as maintains the health blood vessels, tissue, cartilage, bones, eyes, and other organ systems. Vitamin is also required for the biosynthesis of collagen, L-carnitine and neurotransmitters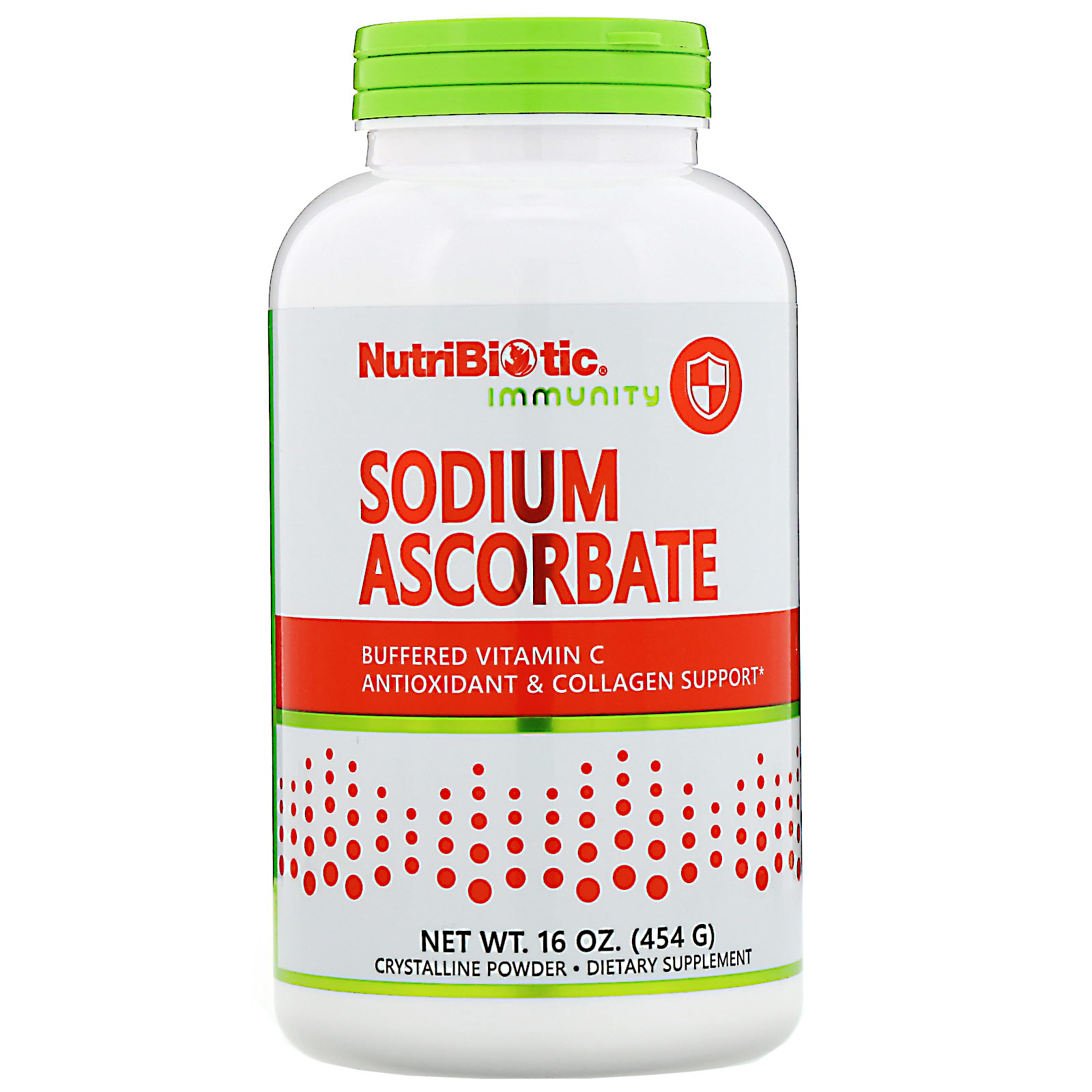 Supplement Facts
Serving Size: 1/4 Teaspoon (1.25 g)
Servings per Container: 363
Amount Per Serving
% Daily Value
Vitamin C (as sodium ascorbate USP-FCC†)
1100 mg
12%
Sodium (as sodium ascorbate USP-FCC†)
1 mg
6%
† United States Pharmacopoeia – Food Chemical Codex
Expiration Date:
Disclaimer:
Our receiving department does its best to verify and then enter the correct expiration dates for all incoming products. However, discrepancies do occur from time to time. This being said, the exceptionally high turnover at iHerb ensures that our inventory is among the freshest in the industry.
Immunity, Sodium Ascorbate, Crystalline Powder, 16 oz (454 g)DESCRIPTION:
Buffered Vitamin C Antioxidant & Collagen SupportCrystalline PowderDietary SupplementMade with Non-GMO IngredientsGluten FreeNot Tested on AnimalsNaturally Fresh  Nitro®Pak Bacteria Free EnvironmentpH 7.1‡Highly SolubleNutriBiotic® Sodium Ascorbate is a non-bitter, non-acidic, fully reacted, buffered crystalline powder combining 100% pharmaceutical grade vitamin C (L-ascorbic acid) and sodium in a highly soluble form.Vitamin C and sodium are essential nutrients that help support the body. Vitamin C provides antioxidant protection to the immune system, as well as maintains the health blood vessels, tissue, cartilage, bones, eyes, and other organ systems. Vitamin is also required for the biosynthesis of collagen, L-carnitine and neurotransmitters. Sodium is an electrolyte that helps maintain the balance of water in and around cells, maintain stable blood pressure, and is important for muscle and nerve function. The combined positive effects of vitamin C and sodium make them vital to the body's overall health. Each serving supplies 1100 mg of vitamin C and 1 mg of sodium.NutriBiotic Sodium Ascorbate is manufactured by dissolving ascorbic acid with sodium hydrogen carbonate (mined from the earth). The sodium in this product differs from common table salt, as it is not combined with chloride. NutriBiotic Sodium Ascorbate is ideal for individuals looking for an alkaline (buffered) form of vitamin C.‡Measure of Acidity/Alkalinity (neutral pH is 7.0)
SUGGESTED USE:
As a dietary supplement, mix 1/4 teaspoon into a glass of juice or water. Taken with or without meals.
INGREDIENTS:
None.Vegan – Gluten Free.Made Without: GMOs, milk, soy, eggs, yeast, wheat, rose hips, peanuts, tree nus, fish, crustacean shellfish, animal products, fillers, binders, excipients, lubricants, starch, sweeteners, colorings, flavorings, and preservatives.Our Promise and Guarantee: We use only 100% pure pharmaceutical grade sodium ascorbate USP-FCC†, which contains no corn residue, plant antigens, or protein impurities.†United States Pharmacopoeia – Food Chemical Codex.
WARNINGS: