Description
RAW Whole Food Supplement Live Probiotics & Enzymes 23 Organically Grown Fruits & Veggies No Binders or Fillers Kosher Non GMO Project Verified Gluten Free RAW Certified Vegan 22 mg Gentle, Whole Food Iron Non-Constipating Vitamins C, B12 & Folate Promote Iron Absorption Whole Food Dietary SupplementRAW – What RAW MeansNo high heat, synthetic binders, fillers, artificial flavors, sweeteners, colors or additives commonly used in tablets.Non GMO – Non GMO VerifiedIndependent, third party verification.Whole FoodRAW Food-Created Nutrients are blended in a base of organically grown fruits and vegetables together with food cofactors.Vitamin Code RAW Ironis whole food nutrition, specifically formulated with the co-nutrients you need to properly absorb and utilize Iron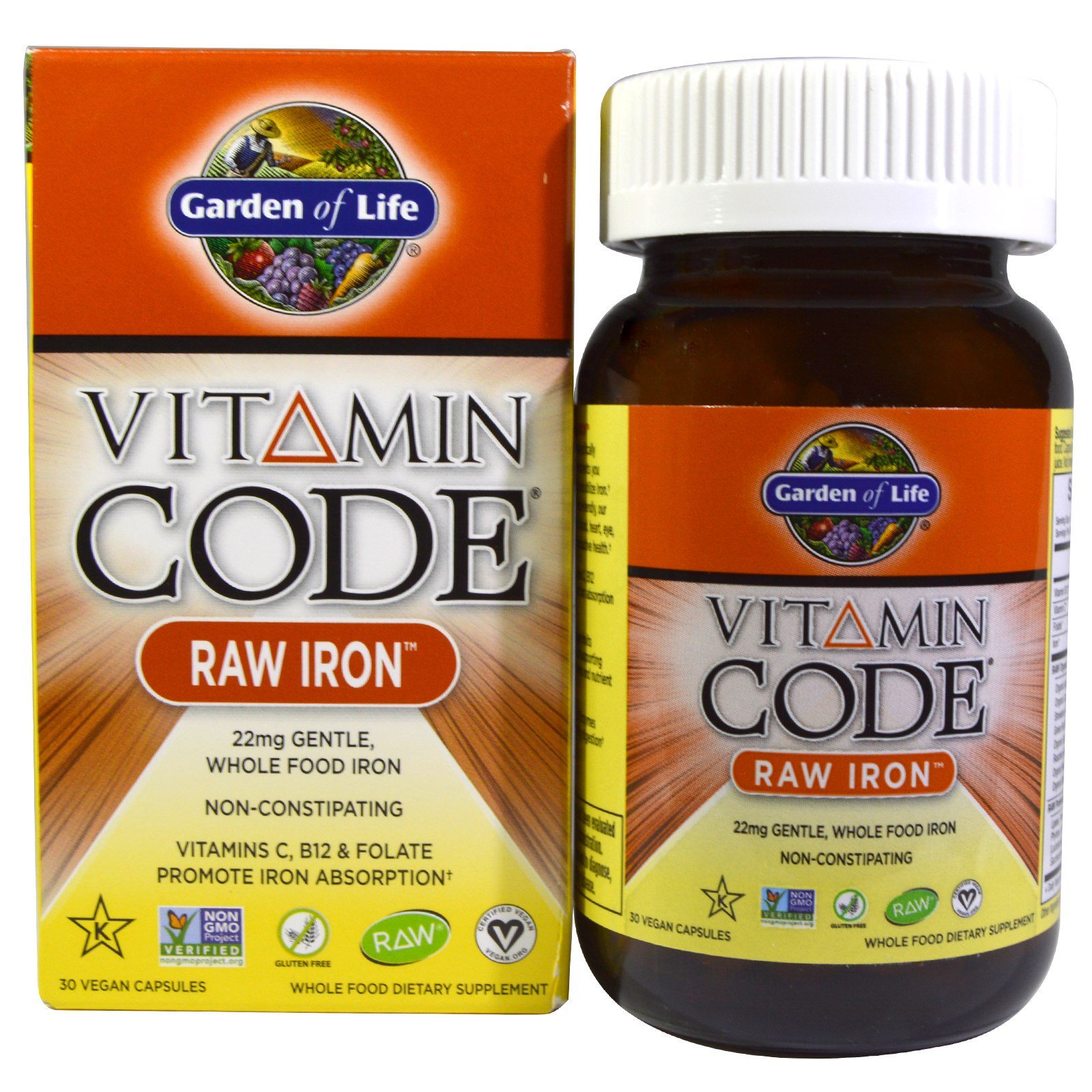 Supplement Facts
Serving Size: 1 Capsule
Servings Per Container: 30
Amount Per Serving
% Daily Value
Vitamin B12
500 mcg
8330%
Vitamin C
25 mg
40%
Folate
400 mcg
100%
Iron
22 mg
1%
RAW Organic Fruit & Vegetable Blend
Organic Apple (fruit), Organic Beet (root), Organic Broccoli (stalk & flower) Organic Carrot (root), Organic Spinach (leaf), Organic Tomato (fruit), Organic Strawberry (fruit), Organic Tart Cherry (fruit), Organic Blackberry (fruit), Organic Green Bell Pepper (fruit), Organic Brussels Sprout (leaf), Organic Blueberry (fruit), Organic Ginger (root), Organic Garlic (bulb), Organic Green Onion (bulb), Organic Raspberry (fruit), Organic Parsley (leaf), Organic Cauliflower (flower & stem), Organic Red Cabbage (leaf), Organic Kale (leaf), Organic Cucumber (gourd), Organic Celery (stalk), Organic Asparagus Juice (flower & stem)
310 mg
+
Raw Probiotic & Enzyme Blend
Lipase, Protease, Aspergillopepsin, beta-Glucanase, Cellulase, Bromelain, Phytase, Lactase, Papain, Peptidase, Pectinase, Xylanase, Hemicellulase, [Lactobacillus plantarum, Lactobacillus bulgaricus] (500 Million CFU), Saccharomyces cerevisiae
60 mg
+
+ Daily Value not established.
Expiration Date:
Disclaimer:
Our receiving department does its best to verify and then enter the correct expiration dates for all incoming products. However, discrepancies do occur from time to time. This being said, the exceptionally high turnover at iHerb ensures that our inventory is among the freshest in the industry.
Vitamin Code, RAW Iron, 30 Vegan CapsDESCRIPTION:
RAW Whole Food Supplement Live Probiotics & Enzymes 23 Organically Grown Fruits & Veggies No Binders or Fillers Kosher Non GMO Project Verified Gluten Free RAW Certified Vegan 22 mg Gentle, Whole Food Iron Non-Constipating Vitamins C, B12 & Folate Promote Iron Absorption Whole Food Dietary SupplementRAW – What RAW MeansNo high heat, synthetic binders, fillers, artificial flavors, sweeteners, colors or additives commonly used in tablets.Non GMO – Non GMO VerifiedIndependent, third party verification.Whole FoodRAW Food-Created Nutrients are blended in a base of organically grown fruits and vegetables together with food cofactors.Vitamin Code RAW Ironis whole food nutrition, specifically formulated with the co-nutrients you need to properly absorb and utilize Iron. Easy to digest and stomach-friendly, our unique formula supports blood, heart, eye, immune system and reproductive health. Whole food Vitamins C, B12 and Folate support Iron absorption and utilization 23 organically grown fruits and vegetables add supporting antioxidants, vitamins and nutrient cofactors Live Probiotics and Enzymes Support Easy, Healthy Digestion
SUGGESTED USE:
Adults take 1 capsule daily. May be taken with or without food. Capsule may be opened and contents may be added to water or raw juice. Not intended for children.
INGREDIENTS:
Vegetable cellulose (capsule), organic rice (hull).Accidental overdose of iron-containing products is a leading cause of fatal poisoning in children under 6. Keep out of reach of children. In case of accidental overdose, call a physician or poison control center immediately.Contains no filler ingredients, artificial colors or preservatives.
WARNINGS:
Caution: As with any dietary supplement, consult your healthcare practitioner before using this product, especially if you are pregnant, nursing, anticipate surgery, take medication on a regular basis or are otherwise under medical supervision.
Keep out of reach of children.
Store in a cool, dry place.
Do not use if safety seal is broken or missing.