Description
Science-Based Nutrition Dietary Supplement Helps Support Glucose Metabiolism and Regenarate Antioxidants Vegan Non-GMO Gluen Free Soy FreeAlpha-lipoic acid (ALA) is a naturally occuring antioxidant, essential for the functioning of 5 enzymes involved in glucose and amino acids metabolism. ALA is both a coenzyme and potent antioxidant. Mitochondria, our cells' energy generators, use ALA for both protection and to generate cellular energy. Being active in both the water and the fatty compartments of cells, ALA fights free radicals throughout the body. Helps promote healthy blood sugar metabolism as part of a healthy diet Helps support mitochondrial energy production Helps support the body's defenses against free radicals Helps recycle antioxidant nutrients such as Vitamin C and Vitamin E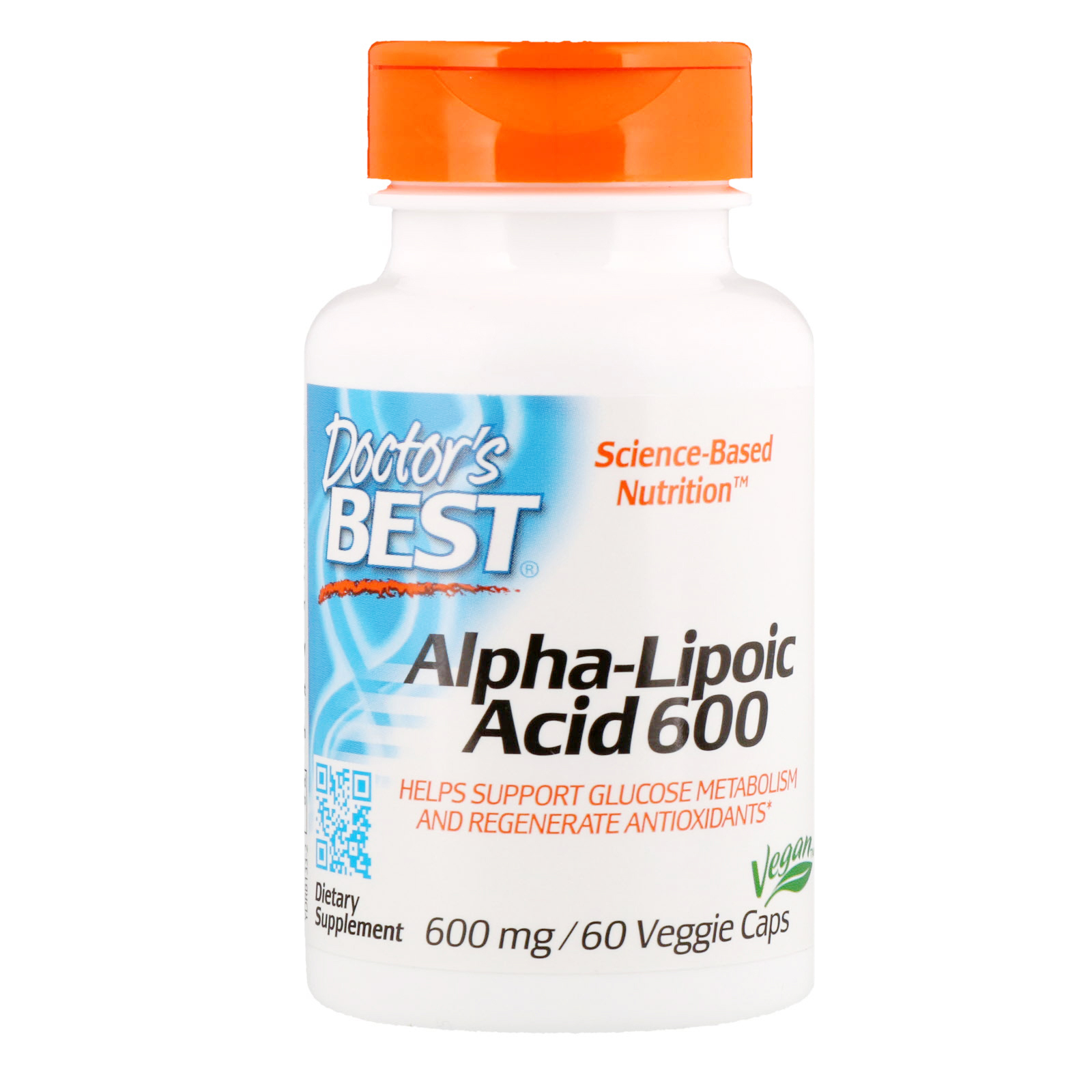 Supplement Facts
Serving Size 1 capsule
Servings per container 60 servings
Amount per serving
% Daily Value
Alpha lipoic acid
600 mg
†
† Daily Value not established.
Expiration Date:
Disclaimer:
Our receiving department does its best to verify and then enter the correct expiration dates for all incoming products. However, discrepancies do occur from time to time. This being said, the exceptionally high turnover at iHerb ensures that our inventory is among the freshest in the industry.
Alpha-Lipoic Acid, 600 mg, 60 Veggie Caps
DESCRIPTION:
Science-Based Nutrition Dietary Supplement Helps Support Glucose Metabiolism and Regenarate Antioxidants Vegan Non-GMO Gluen Free Soy FreeAlpha-lipoic acid (ALA) is a naturally occuring antioxidant, essential for the functioning of 5 enzymes involved in glucose and amino acids metabolism. ALA is both a coenzyme and potent antioxidant. Mitochondria, our cells' energy generators, use ALA for both protection and to generate cellular energy. Being active in both the water and the fatty compartments of cells, ALA fights free radicals throughout the body. Helps promote healthy blood sugar metabolism as part of a healthy diet Helps support mitochondrial energy production Helps support the body's defenses against free radicals Helps recycle antioxidant nutrients such as Vitamin C and Vitamin E
SUGGESTED USE:
Adult Use: Take 1 or 2 capsules daily, or as recommended by a nutritionally-informed physician. Take with or without food.
INGREDIENTS:
Modified cellulose (vegetarian capsule), magnesium silicate, silicon dioxide, rice powder, magnesium stearate (vegetable source). Contains nothing other than listed ingredients
WARNINGS: