Description
Welcome to our store
NATURELO One Daily
Multivitamin for Women – Best for Hair – Skin – Nails – Natural Energy Support –
Whole Food Supplement – Non-GMO – No Soy – Gluten Free – 60 Capsules – 2 Month
Supply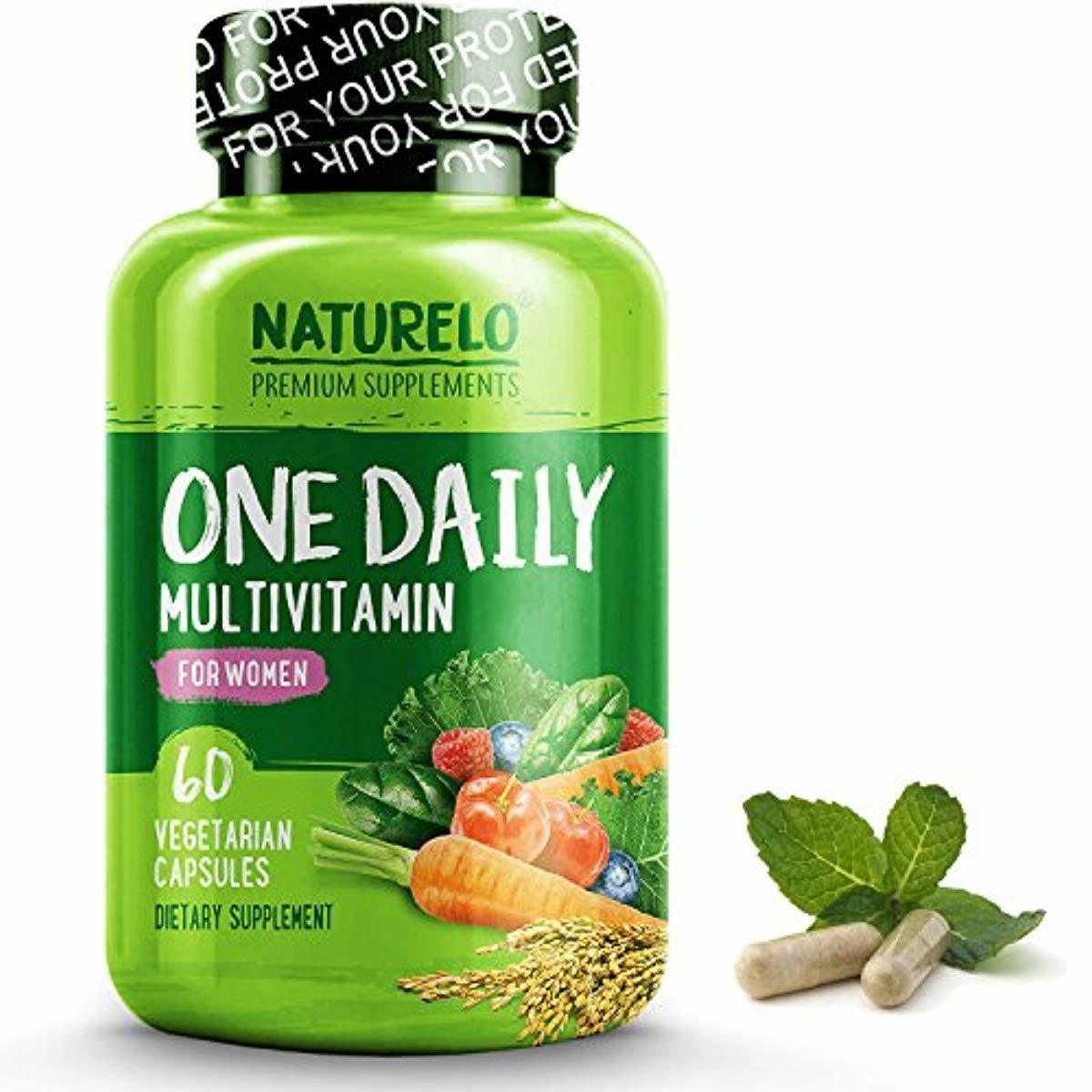 About the product
Product Ratings
Consumer Ratings : 4.5 out of 5 stars
Note : Based on consumer ratings from other marketplaces.
Product Description
(From
the manufacturer)
NATURELO One Daily
Multivitamin for Women – Best for Hair, Skin, Nails – Natural Energy Support –
Whole Food Supplement – Non-GMO – No Soy – Gluten Free – 60 Capsules – 2 Month
Supply
High-Quality,
Natural Vitamins and Minerals
Vitamin A – From 100% natural
beta-carotene, we never use the cheaper synthetics.
Vitamin C – Extracted from
real, Organic Acerola Cherries – NOT the synthetic ascorbic acid you find in
all other multivitamin brands.
Vitamin E – Extracted from
Organic Rice Bran, one of the richest natural sources of this vitamin
Vitamin K – Naturally-sourced
vitamin K2 MK-7, not the less effective vitamin K1.
Folate – We use Quatrefolic –
the active form of Folate, which can be absorbed by your body without
conversion, unlike Folic Acid which cannot be absorbed by people with the MHTFR
gene mutation.
Vitamin B12 – Only
naturally-sourced, active Methylcobalamin, never the less effective
Cyanocobalamin.
Calcium – Our plant-based
Calcium is derived from Algae. Most calcium supplements use cheap Calcium
Carbonate derived from crushed rocks, which can lead to the formation of plaque
in your arteries and increase your risk of heart disease.
Iodine – Our Iodine is
extracted from real Organic Kelp. We never use chemically-synthesized
alternatives.
No additives – Unlike tablets
that typically contain binders, flavoring, and coloring, our capsules contain
only the active ingredients and no additives of any kind.
Supports digestion – Capsules
are made of vegetable cellulose, which is the main source of fiber in broccoli,
kale, and asparagus. The extra fiber helps your digestive health.
No damage to ingredients –
Vitamins in tablet form are sometimes damaged from the heat created during
tablet compression when the tablets are made. The ingredients in our capsules
are not compressed, have not been subjected to heat, and are in pristine
condition.
Faster absorption – Capsule
ingredients come in powder form, so they dissolve faster and get absorbed by
your body sooner.
Convenience – If you have
trouble swallowing, our capsules can be easily opened and you can sprinkle the
vitamin powder on your meal or drink. You can't do the same with a tablet.
Product Features
· Contains NATURAL Vitamins A, B Complex, C, D3,
E, K2 – Minerals – Calcium, Magnesium, Iron, Zinc, Selenium – Antioxidants from
ORGANIC Fruit and Vegetable Extracts
· GMO Free Soy Free – Gluten Free – No Gelatin – No
Preservatives, Coloring or Flavoring
· Supports Immunity, Energy & Wellness –
Promotes Bone Health – High Quality – Made in the USA
· Features B12 from Methylcobalamin – B6 from
P-5-P – MTHFR-friendly Folate (not Folic Acid) – Biotin – Vitamin C from organic Acerola Cherries – Vitamin E from Organic Rice Bran – Plant-based
Calcium from Algae – Iodine from Organic Kelp
· Vegetarian Formula with Raw B-Complex Vitamins
Cultured in
Directions
Take one (1) capsule daily
with a meal and a full glass of water.
Ingredients
Vitamin A (as natural
beta-carotene from D. salina with full spectrum carotenoids) 900 mcg RAE
(100%); Vitamin C (as natural; from Organic Acerola Cherries) 90 mg (100%);
Vitamin D3 (from Organic Lichen) mcg (100%); Vitamin E (natural; from
Organic Rice Bran) 15 mg (100%); Vitamin K2 (natural; as menaquinone-7; from B.
licheniformis) 1 mcg (100%); Thiamin (as natural benfotiamine) 1.2 mg (100%);
Riboflavin (natural) 1.3 mg (100%); Niacin (as natural niacinamide) 16 mg
(100%); Vitamin B6 [as natural pyridoxal 5′-phosphate (P-5-P)] 1.7 mg (100%);
Folate [as Quatrefolic® (6S)-5-methyltetrahydrofolate] 400 mcg DFE (100%);
Vitamin B12 (as natural methylcobalamin) 2.4 mcg (100%); Biotin (natural) 30
mcg (100%); Pantothenic Acid (natural) 5 mg (100%); Calcium (as Aquamin 50%)
and natural citrate 50%) 100 mg (8%); Iron 8 mg (50%); Phosphorus (natural) 60
mg (5%); Iodine (from Organic Kelp) 100 mcg (67%); Magnesium (as natural
citrate) 100 mg (24%); Zinc (as natural amino acid chelate) 10 mg (91%);
Selenium (as yeast-free L-selenomethionine) 50 mcg (91%); Copper (as natural
amino acid chelate) 0.5 mg (56%); Manganese (natural) 1.5 mg (65%); Chromium
(organically bound w/GTF activity) 30 mcg (86%); Molybdenum (natural Krebs
complex) 40 mcg (89%); Organic Fruit & Vegetable Blend 60 mg [Organic
Carrot (root) 10 mg; Organic Blueberry (fruit) 10 mg; Organic Kale (whole
plant) 10 mg; Organic Pomegranate (fruit) 10 mg; Organic Raspberry (fruit) 10
mg; Organic Spinach (whole plant) 10mg]
Safety Information
Do not exceed recommended
dose.
Pregnant or nursing mothers,
children under the age of 18, and individuals with a known medical condition
should consult a physician before using or any dietary supplements.
If you begin to experience any
side effects, consult your doctor and discontinue use. Your doctor will have
your extensive medical health history as well as knowledge of what other
substances you are consuming, which is important when taking a supplement.
Keep out of reach of children,
do not use if safety seal is damage or missing.
Store in a cool, dry place.
Attention
Always read labels, warning, direction and the expiration date before using or consuming a product.
The picture is only stock photo. Actual packaging may be slightly different than what is shown, but we assure you that the product contains what you ordered.
When you have received the item, if it is not what you expected, or if it appears to be different than in our description, and you decide to return it, please do not open the seal of the item, just notify us, and we will arrange for you to return it. We can't give you a refund if the item is open.
Legal Disclaimer
These statement have not been evaluated by the Food and Drug Administration. This product is not intended to diagnose, treat, cure, or prevent any disease.
There is no guarantee of specific results of the product and the results can vary.
Shipping & Sales Tax
Shipping
Free shipping within the 48 states. We only ship within the continental 48 U.S states.
We do not offer combine shipping service.
Delivery time is 3-6 business days including the handling time.
Please note, most of our products ship directly from our different suppliers across the United States.
Please make sure, to provide the correct shipping address during checkout, as the address cannot be changed after checkout. Double check it to be sure. We have no way or knowing in advance, if the address is incorrect. So we will not take responsibility for any incorrect or undeliverable addresses.
Sales Tax
Our business is registered in NY state, so, we are bound by the law to charge all NY state residents 9% sales tax, and to remit all sales taxes to the state on the quarterly basis.
Cancellation and Payment
Cancellation
Per eBay policy regarding cancellation, we are required to accept a cancellation within 1 (one) hour of the time you placed your order. Please understand, that once we process your order, it is very difficult to reverse it, and impossible once we shipped the item. If you need to cancel after the 1 (one) hour, you will have to follow the steps laid out in the return policy, once the item arrives.
Payment
Paypal is currently the only way we can accept payment. But, it is the quickest, easiest, and most secure way to pay for your goods and service online. Paypal offers buyer and seller protection. If you do not have a Paypal account, all major credit card are gladly accepted through Paypal as the payment processor.
Returns Policy
You have 30 days from the date you received your purchase, to return it for refund, subject to the following conditions:
"The date you received your purchase" means, specifically, the date the carrier has on record that they delivered the package to your house. If you are not certain of this date, check online with the tracking number, to see what date is on record for the delivery.
If the item arrived in good condition and is not defective or damaged, and you are returning it just because you don't like or you changed your mind, you must pay for return shipping, also we will charge back the original shipping that we already paid. And you must return the item in new or unused, unopened, unmarked, unwashed or original condition with all original material included with the shipment.
If the return is a result of our error/defective product or the item was damaged in transit, we will refund the full price of the item and we will pay the return shipping cost. In this case, if you wish we will replace the product with a new one.
The item is considered " returned" on the date the carrier has on record, that they delivered the item back to our warehouse/supplier. We will not allow a refund unless the date occurs before the 30 days have elapsed, so it is important that you act promptly, or else we cannot guarantee the refund. In these case, we may refuse the returned package.
eBay regulation dictate that we must process your refund within 6 days from the date the carrier has on record that your return was delivered to our warehouse/supplier even it that occurs before you 30 days have elapsed.
All return must be requested through eBay, for return authorization and shipping address. Please note, never send a return without opening a return request, as the return address is different with the original address.
Thanks for looking Thank You for your purchase
<