Description
Established 1971 Certified Gluten-Free With (6S)-5-Methyltetrahydrofolate Supports Energy Dietary Supplement Quatrefolic Certified B Corporation KosherCoenzyme B-Complex contains essential B vitamins in its active, "coenzymated" form. This complex that you've known and loved for over 15 years includes Methylfolate (Quatrefolic) – the most advanced form currently available. And as always, you don't need to worry about the typical Vitamin B taste or odor.-Our Pledge of Integrity- Authenticity Cleanliness Freshness Consistency Accuracy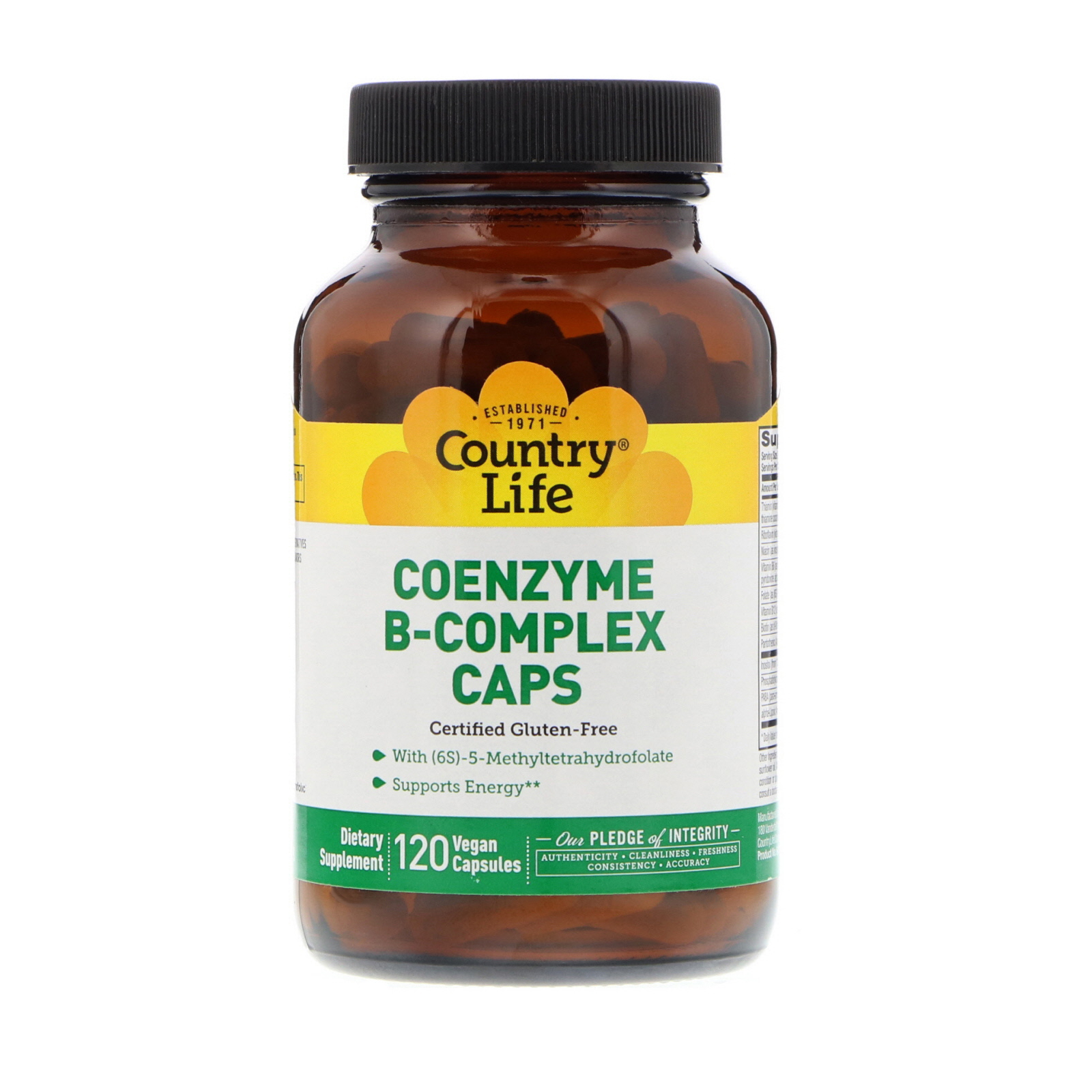 Supplement Facts
Serving Size: 2 capsules
Servings Per Container: 60
Amount Per Serving
% Daily Value
Thiamin (vitamin B1) (as thiamine hydrochloride, thiamine cocarboxylase chloride)
50 mg
3,333%
Riboflavin (vitamin B2) (as riboflavin, riboflavin 5′ phosphate)
50 mg
2,941%
Niacin (as inositol hexaniacinate)
100 mg
500%
Vitamin B6 (as pyridoxine hydrochloride, pyridoxal 5′ phosphate, pyridoxine alpha-ketoglutarate hydrochloride)
80 mg
4,000%
Folate (as (6S)-5-Methyltetrahydrofolate-glucosamine salt)
400 mcg
100%
Vitamin B12 (as dibencozide, methylcobalamin)
500 mcg
8,333%
Biotin (as d-Biotin)
0 mcg
67%
Pantothenic Acid (As pantethine, calcium d-pantothenate)
50 mg
500%
Inositol (from 130 mg inositol hexaniacinate)
27 mg
*
Phosphatidylcholine (from sunflower lecithin)
36 mg
*
PABA (para-aminobenzoic acid)
50 mg
*
alpha-Lipoic Acid
100 mcg
*
* Daily Value not established.
Expiration Date:
Disclaimer:
Our receiving department does its best to verify and then enter the correct expiration dates for all incoming products. However, discrepancies do occur from time to time. This being said, the exceptionally high turnover at iHerb ensures that our inventory is among the freshest in the industry.
Coenzyme B-Complex Caps, 1 Vegan Capsules
DESCRIPTION:
Established 1971 Certified Gluten-Free With (6S)-5-Methyltetrahydrofolate Supports Energy Dietary Supplement Quatrefolic Certified B Corporation KosherCoenzyme B-Complex contains essential B vitamins in its active, "coenzymated" form. This complex that you've known and loved for over 15 years includes Methylfolate (Quatrefolic) – the most advanced form currently available. And as always, you don't need to worry about the typical Vitamin B taste or odor.-Our Pledge of Integrity- Authenticity Cleanliness Freshness Consistency Accuracy
SUGGESTED USE:
Directions: Adults take one (1) to two (2) capsules daily, preferably before or between meals. Do not exceed recommended dose. As a reminder, discuss the supplements and medications that you take with your health care providers.
INGREDIENTS:
Cellulose, cellulose (capsule shell), silica, rice bran extract, vegetable glaze, sunflower oil. Yes Certified gluten-free by GFCO.org. Yes Certified vegan by the AVA. Yes Recyclable packaging. Yes Manufacturing supports wind power. Yes Kosher. No Yeast, wheat or soy. No Milk, sugar or preservatives. No Artificial colors, flavors or sweeteners. No Magnesium stearate.This product has been manufactured at a GMP registered facility.
WARNINGS:
Caution: If you are pregnant, nursing, or taking medication, have a medical condition or planning surgery, consult a doctor before using this product. Stop using and consult a doctor if any adverse reactions occur. Do not accept if seal is broken. Store in a dry place between 59°-86°F. Keep out of the reach of children.