Description
Anthon Berg Chocolate Liquor Bottles
Newsletter
Add CandyMafia to your favorites to receive Our e-mail newsletters about new items and special promotions.
Payment

Chocolate Liquor Bottles Gift Box Anthon Berg Liqueur Bottles 16 count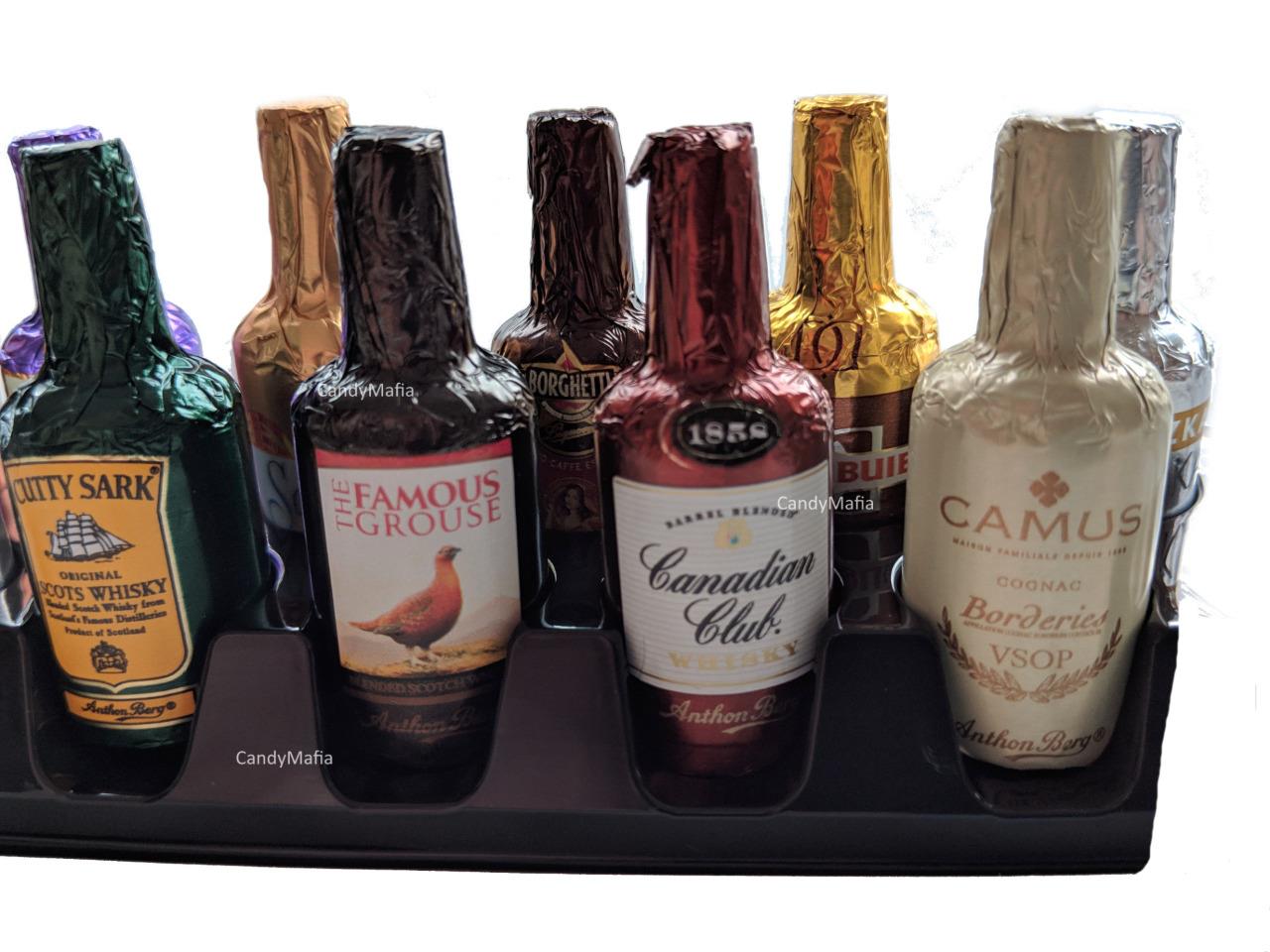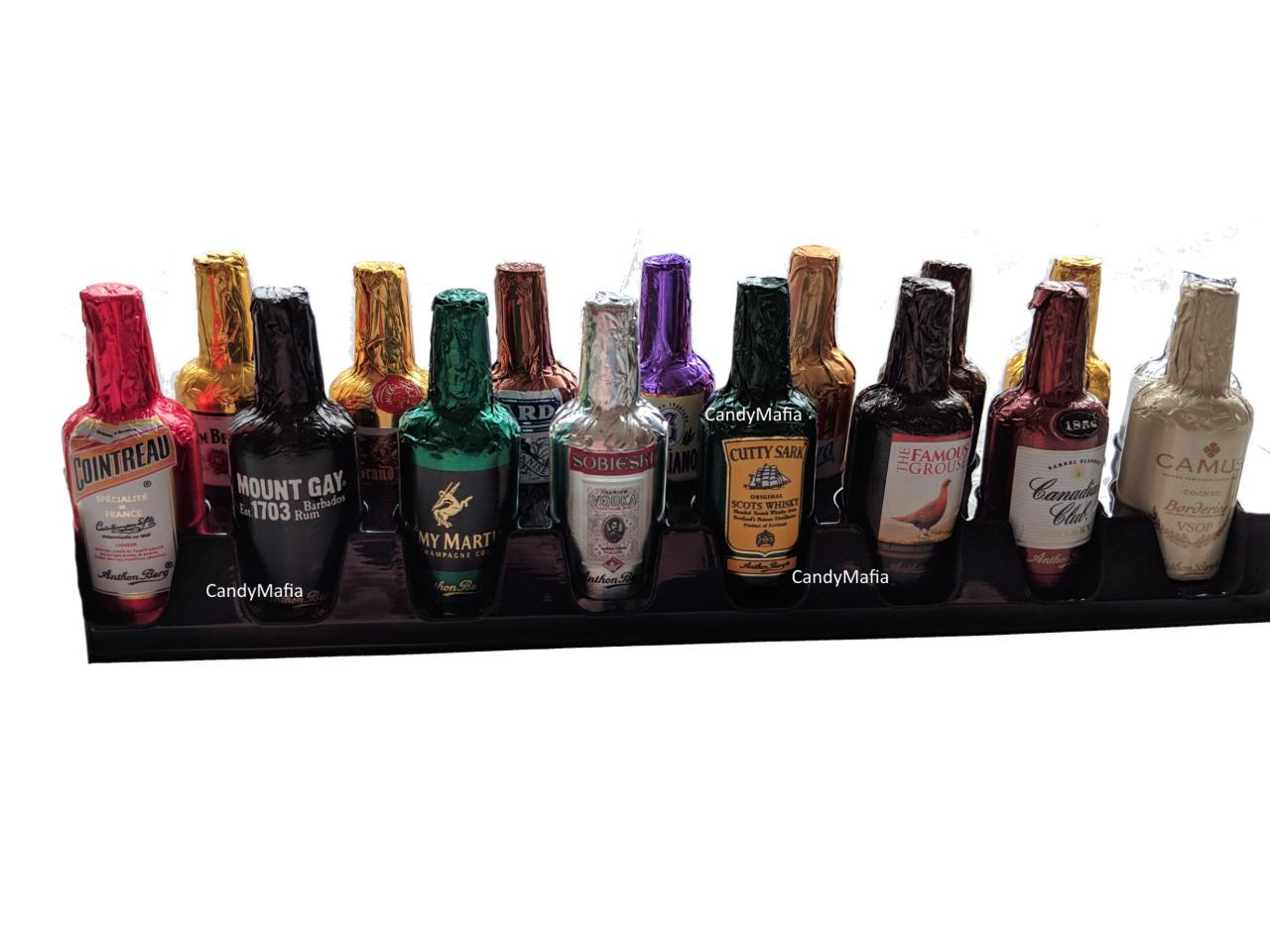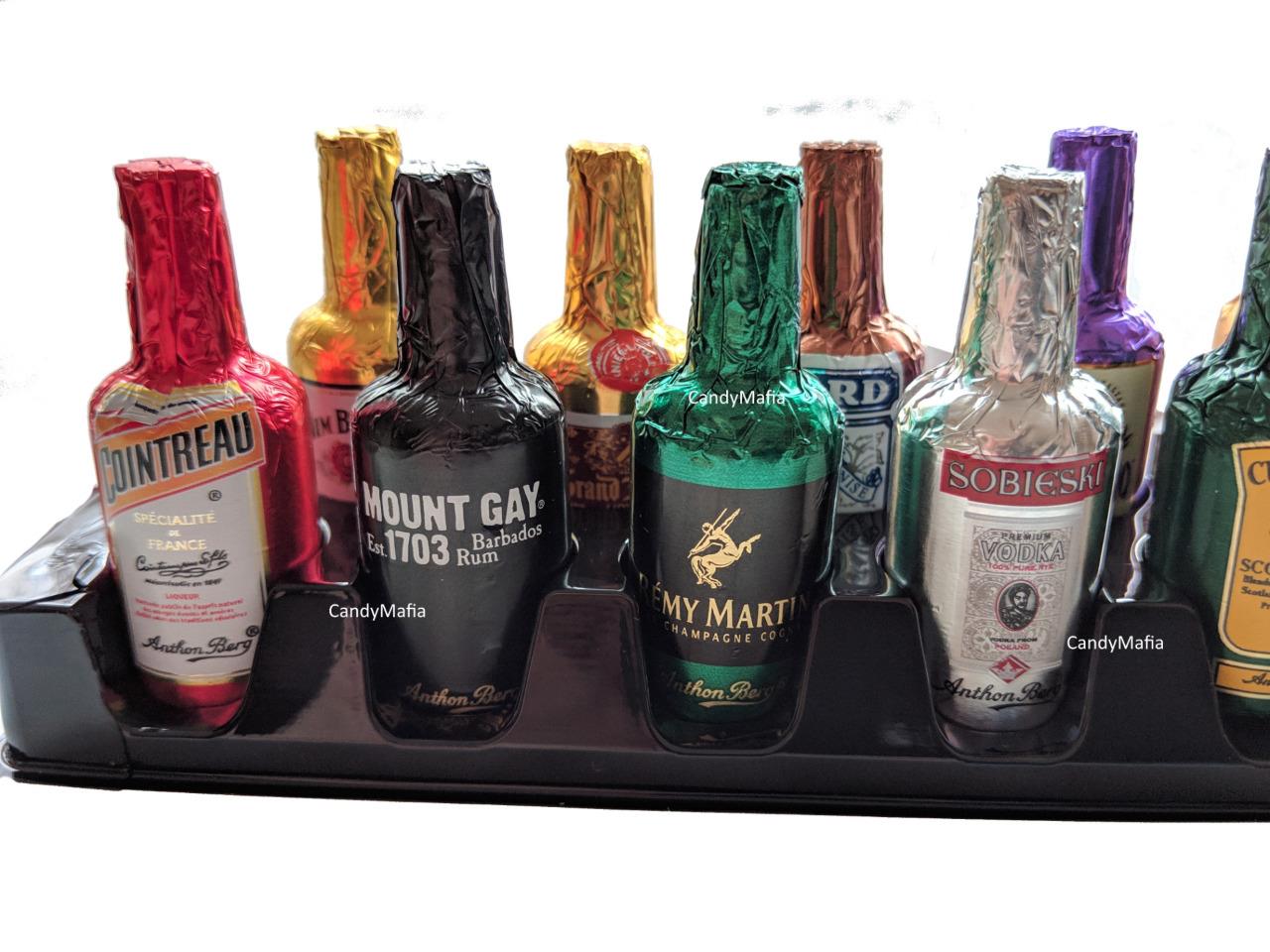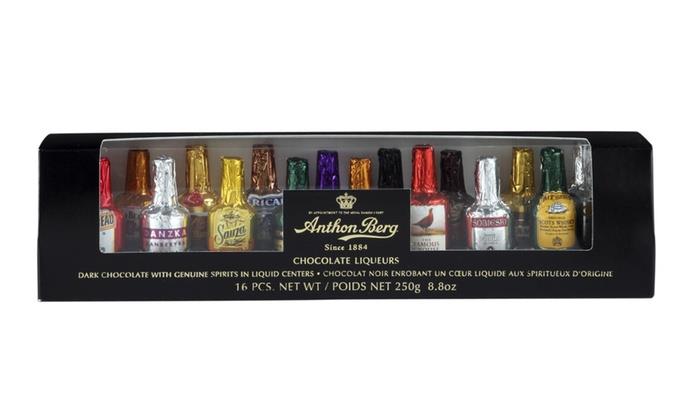 Anthon Berg Liquor Filled Liqueur Bottles
16 Bottle Gift Set
Individually wrapped dark chocolate bottles
containing alcohol
(This will come from CandyMafia directly.  We do not dropship from Amaz– like all of the other sellers here on ebay.  We also quality check each item before it ships out. Thank you for choosing CandyMafia! 🙂
Anthon Berg Liquor filled chocolate liqueur bottles.  Get 16 individually wrapped, dark chocolate shaped bottles filled with your favorite liquor.  There are a total of 16 bottles, and each one of them contains a different flavor of liqueur.
Flavors included in the assortment:  Jim Beam, Cointreau, Galliano, Canadian Club, Remy Martin, Borghetti and Sauza and more.
The package is a clear window displaying all 16 of the bottles.  Each one of the bottles has an individual slot to protect them from moving during shipping.  Anthon Berg has a reputation of using quality chocolate with the finest liqueurs.  This is an excellent gift idea and a fun Secret Santa gift. The entire sleeve is approximately 10″ long and each one of the bottles is about 2″ tall.
***  This product does contain alcohol and you must be 21 or older to purchase  ***
We will also gladly put a "To and From" card in the box, or a personalized message in the box if you would like.  When we do that, we take out the invoice and all pricing information and they only see the card.  When you check out, just put the message in the Notes section.
Enjoy and Happy Holidays!!
We also combine shipping on all of our orders
Thanks again!!
CandyMafia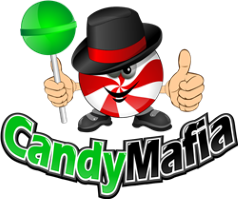 Newsletter
Add CandyMafia to your favorites to receive Our e-mail newsletters about new items and special promotions.
Payment

Thanks again for choosing CandyMafia!
Paypal is our preferred method of payment.
Here comes your candy!

We generally use USPS Priority Mail and the shipping is generally 2-3 shipping days to your door once they are shipped  We will send you the tracking number once they are shipped out.

We also combine shipping on all of our orders. Sometimes ebay has trouble combining the shipping when you order multiple flavors from us, so just let us know and we'll gladly adjust it.

Since we only carry fresh candy, and don't dropship orders from other sites like the other sellers on ebay, it generally takes 2-3 days to ship the orders.  We will always try to ship them as fast as possible, because everyone loves to get their candy as soon as possible. 🙂  Since our candy is so fresh, we constantly get new, fresh inventory, so we may have to sort out your flavors before shipping them out, so it may take a little longer than normal if it is a popular flavor.
We may not have the cheapest candy, but we definitely have the freshest! 🙂

If your order is time sensitive, please Contact Us and we will definitely work with you to make sure that you receive your order in time.  Feel free to contact us, we're really nice. 🙂  We will send you the tracking number as soon as your order ships out.  Please Contact Us for any other shipping questions.
Thanks again for loving candy!

We started selling candy by the flavor back in 09 because so many people kept asking us for the flavor they wanted, without all of the other flavors that they didn't want!  We're called CandyMafia because you needed a "secret source" to get the flavors that you want!  All of our candy is fresh, immediately sorted, and heat sealed into clear bags to maintain freshness. We do not use old, stale, or last year's Halloween candy like some other sellers who sell them at a discount.

We also do not post our listing here on ebay, and then dropship your order from the cheapest seller on other sites like the other sellers here on ebay. Your candy is coming directly from CandyMafia, so you can trust that it is new, fresh, and delicious. The candy that you receive will also be fresh, and be good for another 12 to 18 months after you receive it.  We want you to get the fresh, great tasting candy that you expect!

Thanks again for loving candy, and welcome to the "family"!  If you have any other questions, please Contact Us!  Thanks again!

Sincerely,
CandyMafia


Attention Sellers – Get Templates
Image Hosting, Scheduling at Auctiva.com.